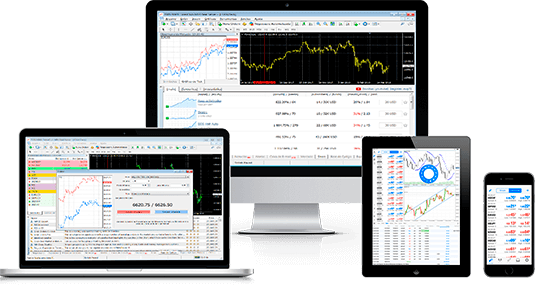 MT4
---
MetaTrader 4 is specifically designed to provide our clients with the ultimate trading experience, combining automatic market updates in a user-friendly layout, alongside internal news updates and the ability to create and deploy technical indicators, as well as Expert Advisors or EAs.
---
---
Advanced Charting Tools
The MT4 platform comes fully installed with an advanced charting package containing more than 30 technical indicators to help support your trading decisions. What's more this charting package is fully configurable, allowing you to view single or multiple charts within one window.
Free Research Materials
Our live clients receive regular market updates alongside the latest analysts' picks from both our in-house research team and Trading Central. To find out more about our free online resources by simply visiting our education section.
PC CPU System Requirements
Operating system: Windows 2000/2003/XP SP (2) / Vista 7 or higher
CPU requirement 1.0 GHz
RAM requirement (Memory) a minimum of 512 RAM
Screen resolution requirement a minimum of 1024 x 768
Internet requirements: Modem/connection speed 36.6 Kbps or faster
Browser requirements:-internet Explorer version 7.0 Mozilla Firefox 2.0 or the latest release of the browsers
Platform Benefits
Free trading software that is easy to install
Multilingual – Blackwell Trader is available in over 20 languages
Offers users access to many technical indicators and what's more, EAs are supported
Users can configure specific line studies to suit their needs
Back test strategies with our historical database
Hedging trades are allowed and supported
Automatic updates and alerts
Comprehensive help manuals and user guides
---
*The use of leverage can magnify profits but it can do the same for losses. Forex and CFDs are leveraged products, involve a high level of risk and can result in the loss of more than your invested capital. Please consult our full risk warning notice.
How to Install MT4 for Windows
1.To download Blackwell Trader MT4, simply click the "Download Platform" button
2. Then save the file
3. Next you just need to run the downloaded file, setup.exe
4. Our install wizard will appear on screen and take you through the setup process
5. Finish the download and get ready to start trading
6. You just need to Login with the login details that were sent to your registered email address.
How to Install MT4 for Mac
Follow these 2 steps to install Blackwell Trader MT4 for Mac OS.
1. Install Wine
Wine is a free software that allows programs which were written for Windows to run on a Mac. This includes the Blackwell Trader MetaTrader 4 software.
* Wine is a third-party software and is not a fully stable application. The performance of the applications that you may run under Wine could thus be affected.
2. Install PlayOnMac.
PlayOnMac is a Wine-based software that assists in your installation of Windows-based software on a Mac OS, including the Blackwell Trader MetaTrader 4 software.For a step-by-step guide to this process, please visit MetaTrader 4's Install Terminal for Mac OS webpage.